Digital Broadcast channels in my area
Minneapolis / Saint Paul Minnesota Twin Cities Area Digital TV & HDTV Cheat Sheet
June 13, 2019 – 12:21 pm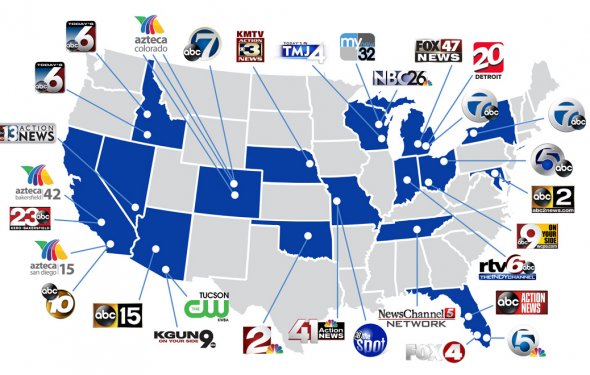 Introduction
Here is a cheat-sheet that details information on the various Twin Cities (Minneapolis and Saint Paul area) DTV stations (Digital TV). I seem to keep forgetting which channel is what, so I finally decided to document the information that I have found to date.
As of mid-2003, all of the major Twin Cities area analog TV stations have DTV transmitters up and running. Some, such as KTCA and KMSP, seem to be running at lower power level than they are authorized because they are much harder to receive than the other local DTV stations. One thing that I found interesting is that KPXM (analog channel 41, DTV channel 40) is very easy to pick up in the Twin Cities despite being listed as being from Saint Cloud.
You do not need a HDTV set to receive DTV signals. A stand-alone DTV receiver will do the trick. All DTV receivers have component outputs for HDTV sets, and some of the newer ones have DVI jacks for HDTV with HDCP (high definition copy protection). In addition, DTV receivers have standard S-video and composite video outputs that will connect to most Analog TV sets. Watching DTV on an analog set is better than the older analog signal since it is Digital, which means no snow, no ghosts, and the potential to use Dolby Digital audio if you have a home theater sound system. These DTV receivers were once over $500. Today, you can pick them up for under $200, and many HD satellite receivers will pick up off-the-air DTV signals.
Return to of page.
Final Update
Life In The DTV Universe — The DTV conversion is now a year behind us. The story has faded from the news, people have adapted, and television has gone through a small revolution as flat screen HDTVs have rendered the big heavy tube type televisions all but extinct. As a result, this will be my last update for this page. While it was useful leading up to and during the conversion, I don't have the time to monitor and report on all future TV changes, so this page will remain as a historical point of view on an event that caused angst for millions, yet, like Y2K, is already largely forgotten.
Update From Glenn Sommerfield — A number of TV related changes have happened over the winter of 2009 and 2010. The best summary of this info was provided to me by Glenn Sommerfield. The remainder of the notes in this section are from Glenn's E-mail.
Changes At TPT — TPT changes as of January 28, 2010:
TPT Life moved from RF channel 16 to RF channel 23.
Power has been increased on RF channel 23.
TPT Weather moved from RF channel 16 to RF channel 34.
The channel line-up at TPT is now:
2-1 KTCA is TPT HD 2.
2-2 KTCA is TPT MN Channel.
2-3 KTCI is TPT Life.
2-4 KTCA is TPT Weather.
Changes At KPXM — KPXM TV 41 shuffled their lineup on Feb. 1, 2010:
The Worship Channel on 41-4 has been discontinued.
41-1 is KPXM ION
41-2 is Qubo
41-3 is ION Life
Channel 25 Is Digital — Low power station channel 25 is now broadcasting 5 SD channels using their new digital TV transmitter:
25-1 is TBN (Trinity Broadcast Network)
25-2 is The Church Channel.
25-3 is JCTV, a video music channel.
25-4 is Smile Of A Child, an all kids channel.
25-5 is Enlace TBN, a Spanish religion channel.
Channel 47 — A Wisconsin Public TV digital translator station is running in River Falls. This station rebroadcasts WHWC-TV channel 28 from Menomonie, WI. The call letters are W47CO-D. It runs on RF channel 47 with a power of 1600 watts. The parent channel can sometimes be viewed in the east metro area, too. The line-up is:
28-1 is WHWC Wisconsin Public Television PBS (HD).
28-2 is The Wisconsin Channel (SD).
28-3 is Create and PBS Kids (SD).
Return to of page.
Updates & News
Conversion Date — The analog TV channels will go dark beginning on February 17, 2009, and must complete the process by June 12, 2009. Those dates are rapidly approaching. Most people will notice no difference since most people get cable TV or use a satellite service. Folks that receive an over-the-air signal either need to get a converter box or upgrade to a new TV set. Don't listen to the hype and the truck-stop conspiracy talk and end up making a bad decision. Learn the facts, and be assured that most people will notice no difference.
Converter Boxes — The low-cost converter boxes are now available in quantity. You can get up to two $40 coupons from the US Government via the website. Note that the converter boxes only support stereo audio and analog video, so while they will look great on analog TV sets, you will not get HD quality pictures on HD sets. You need one of the more advanced ATSC Tuners or a tuner built into a newer HD TV set to get an HD quality TV picture from an over-the-air source.
Channel Swapping — TV stations have been operating their digital transmitters on new TV channels. For example, channel 5 runs their digital transmitter on channel 50. In recent months, a large number of TV stations have petitioned the FCC to change their channel numbers. The FCC has now approved this change. Up to one-third of all TV stations will change their channel numbers once again on the day of the cut-over. This impacts viewers in two ways. First, existing DTV viewers will need to rescan their TV channels after the cut-over to pick up the stations that move to new channels. Second, while all the of the Twin Cities DTV channels are on UHF, some channels will move back to VHF, which means that people will need the older and larger VHF antennas as well as the newer and smaller UHF antennas. More details on this will follow.
Low Power Analog — Only full-power analog TV is going dark. Low power analog TV, Class A TV, and analog TV translator stations are being allowed to continue after the cut-over date. The twin cities has a number of low power stations, and many out-state towns have translator stations for the bigger twin cities TV stations. If you plan to continue to watch analog TV after the cut-over date, and you plan to get a converter box, make sure that the converter box has a feature called analog pass-through.
Twin Cities Public TV — TPT has changed their plans for their DTV roll-out. Gone is the PBS Create channel, Kids, the dedicated HD channel, and channel 17. As of the end of December, 2-1 is TPT2 in SD, while 2-2 is TPT2 in HD. The final channel line-up will be 2-1 as TPT2-HD, 2-2 as TPT-MN, 2-3 as TPT-LIFE, and 2-4 as TPT-Weather. At the cut-over, 2-3 and 2-4 will be on the old channel 17 (DTV channel 16) equipment, which is lower in power than the main channel 2 transmitters. TPT has applied for a new channel number where they can run at full power, which has been approved by the FCC, but it has not yet been approved by Canada. As a result, 2-3 and 2-4 will be harder to get than 2-1 and 2-2.
Source: www.johnweeks.com
Blue Light Screen Protector Panel For 26"/27"/28" Diagonal LED PC Monitor (W 24.80" X H 15.55") (W630mm x 395mm). Blue Light Blocking up to 100% of Hazardous HEV Blue Light from LED screens. Reduces Digital Eye Strain to benefit eye health. For office or home PC's to promote Healthy Eyes for Working People. For 26"-28" diagonal screen.
PC Accessory (Accurate Films)
Absolutely the best optical quality Blue Light Blocking Panel available today.
Blocks 100% of Hazardous UV light and reduces HEV Bluelight up to 100% with excellent Color Transmittance.
Anti-Blue Light blocking between 380nm~495nm for wide range HEV protection.
Reduces digital eye strain when viewing LED screens: Office PC, Home PC, eSports or eGaming.
Design allows for easy installation and removal. Sizes available to fit most LED flat panel monitors.
Popular Q&A
I don't have cable or satellite, we hooked outdoor antenna up and have had great reception but not now, WHY!!? | Yahoo Answers
ever since television stations went digital we have had our televisions hooked up to an outdoor antenna and have gotten great reception until about two weeks ago now we have no signal, why has this happened and can we do anything to correct it???
Check the cable. You may have had a hungry rat or squirrel chewing on your wires. If that doesn't reveal any problem, plug the antenna input into a different TV and see if that works. If so, it's your TV. If not, it's the antenna or cable. If the first two fixes don't work, try running a second cable from the antenna to the TV to completely bypass the original cable. Finally, verify that the antenna is positioned properly and didn't get blown off line or something.
Related Posts